Benchtop PCB Thermal Imaging Camera
TCP100 is a new generation PCBA (Printed Circuit Board Assembly) thermal analyzer developed by TESLONG. The PCBA analyzer quickly detects a variety of circuit defect to improve work efficiency. Circuit defect includes...
TCP100 is a new generation PCBA (Printed Circuit Board Assembly) thermal analyzer developed by TESLONG. The PCBA analyzer quickly detects a variety of circuit defect to improve work efficiency. Circuit defect includes circuit board current leakage, short circuit, capacitor breakdown, circuit aging and components defect etc. 
Find PCB Hot Spots At A Glance - An Effective & Time-Saving Tool to  Debug Complex PCB - With this 260x200 highly sensitive IR thermal camera, you can quickly non-contact identify all of hot spots and focus your time-consuming testing at fewer points with greater confidence that none was missed. Say Goodbye To the "Guessing Game" of Electronic Repair.
 Designed For PCB Repair - Unlike handheld thermal imaging camera, this desktop thermal camera has a metal adjustable bracket and offers hands-free operation that allow you to focus on your work without the needs of continuously holding the thermal camera, which is more suitable for long hours testing and repair operations.
 Real-Time Depth Analysis - Only Works With Windows PC - The free PC software has many useful functions. It can not only measure the temperature of the target, but also measure the temperature of multiple points or areas on the image, and record the temperature changes.
 3D Graph Function - Easy To Detect Subtle Temperature Differences - The software can convert the flat thermal imaging picture into a 3D temperature change graph that the detect ultra-small current leakage can be easily observed, very useful for research and development professionals.
 Repair While Watching - Heat Resistant & Anti-static Bottom Plate - In order to facilitate PCBA engineers to perform repairs during electronic testing, the bottom plate is made of high-temperature resistant silicone material, which protect your workbench from being damaged or burnout by high temperature. It is also can protect your sensitive electronic devices from static damage.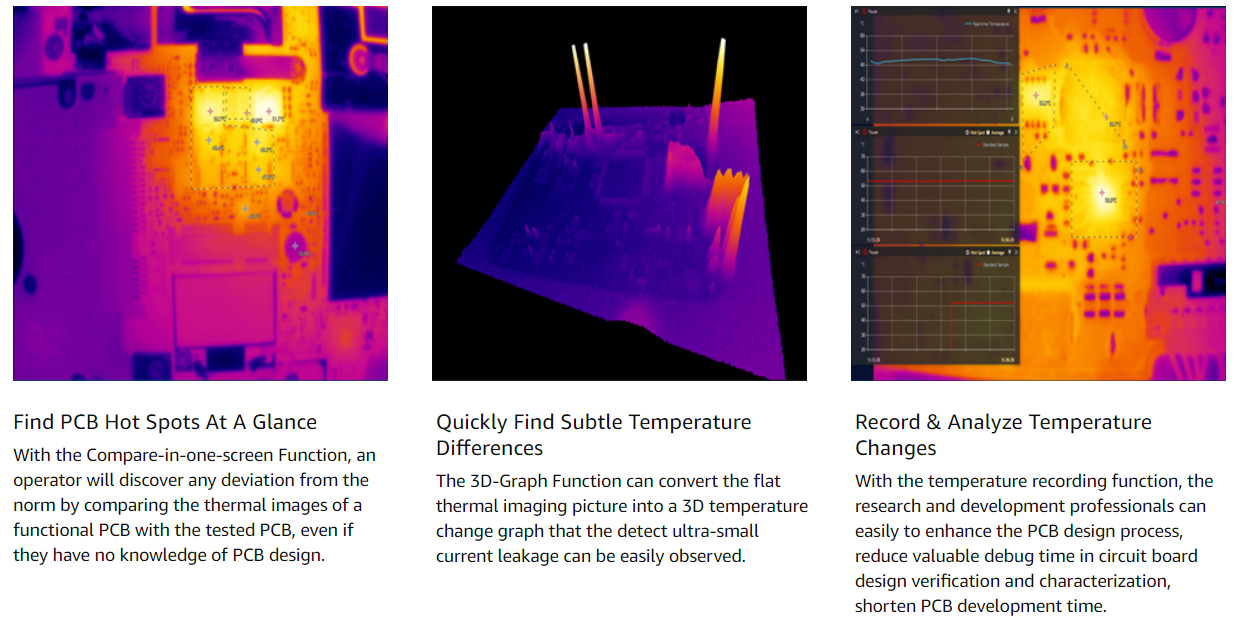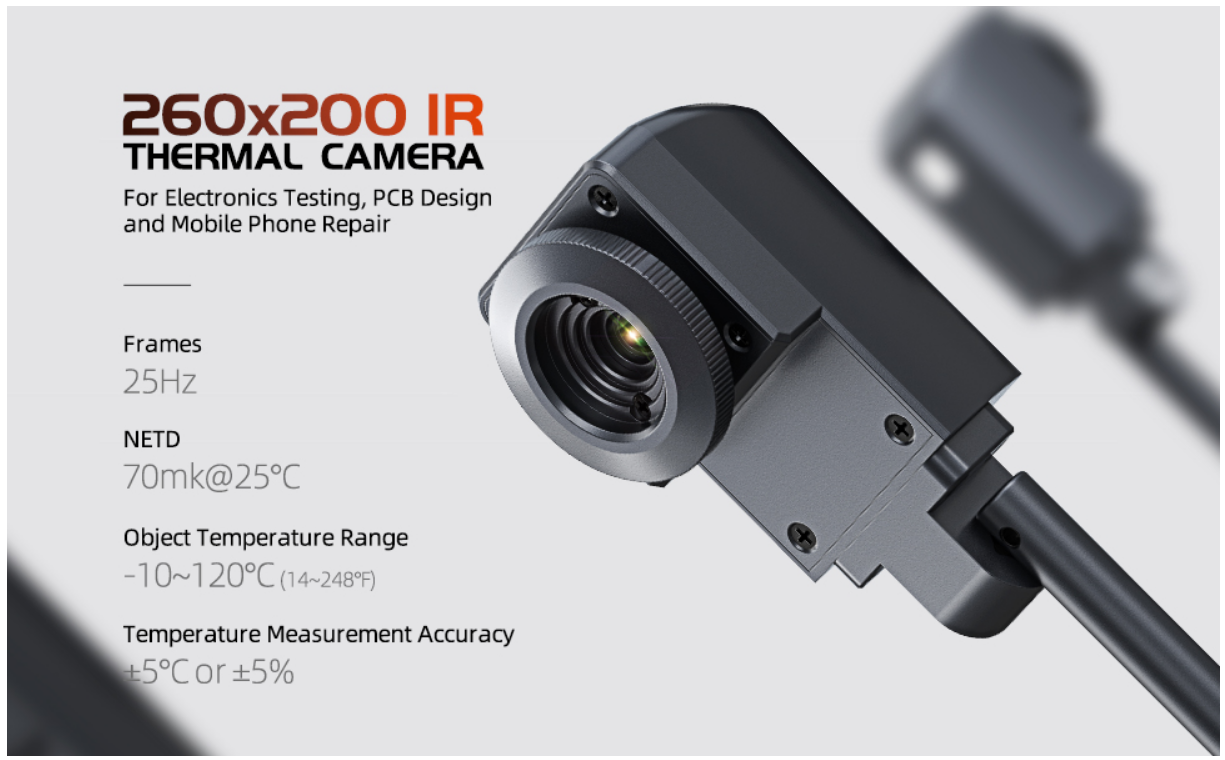 | | | |
| --- | --- | --- |
| Expedited Shipping | Free Standard Shipping | Low-Cost Shipping |
| Expedited Shipping to the contiguous USA is optional during checkout. | Most orders over $49 qualify for Free Shipping to the contiguous USA. | If your order doesn't qualify for free shipping, you may review alternative shipping options during checkout. |
| 1-3 Business Days | 1-7 Business Days | 1-14 Business Days |
| Orders placed after 12pm Fridays will ship the next business day. | Orders placed after 12pm Fridays will ship the next business day. | Orders placed after 12pm Fridays will ship the next business day. |
Why didn't my order qualify for Free Shipping?
Your order may not qualify for the following reasons:
It's a special order.
Item is shipped from outside of the united states.
The item is out of stock or backordered.
The item's particular qualities like it's size, weight, type of material or other things disqualify it.
United States
We ship nationwide across the contiguous (lower 48) states, as well as Alaska, Hawaii, Puerto Rico and other USA territories.
International
We ship most international packages via UPS or DHL. Shipping fees are calculated on a combined basis of weight, value (for insurance purposes) and destination. Some orders are shipped in multiple parcels. We do not add additional fees to your order if we ship in multiple parcels.
Some items cannot be exported due to manufacturer or government restrictions. You will receive an on-screen notice if you attempt to put an item in your shopping cart or check out an order containing items which we cannot send to you.
We also reserve the right to block certain products from being shipped outside the USA.
Where We Ship
We ship around the globe. Please check below to acquaint yourself with any exceptions and conditions that may apply to your neck of the woods.
We currently do not ship to Iran, Sudan, Cuba, Syria, North Korea and Uganda.
Return Policy & Instructions
Easy 30-Day Return Policy
If you are dissatisfied with your purchase for any reason, you may return it to TESLONG within 30 days of the purchase date, subject to the conditions and exclusions below.
If your original item included free items, you must return all associated items for a full refund; the retail value of any free items you keep will be deducted from your reimbursement total.
You may initiate a return or exchange online, by phone or Live Chat.
IPS stands for in-plane switching, a type of LED (a form of LCD) display panel technology. IPS panels are characterized as having the best color and viewing angles among the other main types of display panels, TN (twisted nematic) and VA (vertical alignment). However, IPS panels are also the most expensive of the three.
It's the distance between the camera and the subject you have focussed on.
A megapixel (MP) is a million pixels; the term is used not only for the number of pixels in an image but also to express the number of image sensor elements of digital cameras or the number of display elements of digital displays. For example, a camera that makes a 1280 × 720 pixel image (921,600 finished image pixels) typically uses a few extra rows and columns of sensor elements and is commonly said to have "1.0 megapixels" or "1.2 megapixels", depending on whether the number reported is the "effective" or the "total" pixel count.
In photography, angle of view describes the angular extent of a given scene that is imaged by a camera. It is used interchangeably with the more general term field of view. It is important to distinguish the angle of view from the angle of coverage, which describes the angle range that a lens can image.
IP stands for "Ingress Protection" and is the International Protection Marking per IEC standard 60529. The most common use of an IP rating is how protected a product - such as a transducer - is from a solid or liquid entering the product.IP67 rated will remain protected and fully operational in most industrial applications, including those where the transducer is exposed to water spray, rain, debris, etc. The "6" indicates the sensor is completely protected against solid objects from entering the camera, including dust, while the "7" indicates the camera can be completely submerged in 1 meter of water for up to 30 minutes before the moisture penetrates the housing.
The No.1 reason that cause those blurry images are the dirts or oil(endoscopes) or ear wax(otoscopes) being stuck to teh tip of the camera. Please use a cloth, aclcohol pad, or a Q-tip to clean it. You can apply a little pressure to make sure you get all the dirts, oil, ear wax off the tip of the camera.
No, all the endoscopes we sell are not for medical use and it's prohibited to put into human body.