5 inches IPS Inspection Camera, Teslong Dual Lens Borescope-Endoscope Camera, Snake Camera with 8mm 16.4ft Flexible Cable, IP67 Waterproof with 7 LEDs, 5000mAh, Flashlight, Sturdy Case, 32GB, Zoom
High-Resolution Dual Lens Inspection Camera 【 DUAL CAMERA LENSES】A second HD inspection camera is built into the side of the main camera for a wider field of view. Easily switch between two...
High-Resolution Dual Lens Inspection Camera
【 DUAL CAMERA LENSES】A second HD inspection camera is built into the side of the main camera for a wider field of view. Easily switch between two 70-degree cameras for a total of a 140-degrees view to look sideways and forwards. Focal length at 1-4inch (3-10cm) for the sharpest image.
【LARGER 5˝ SCREEN】The screen has been increased from 4.3˝ to 5˝ plus this model has 3 times the resolution compared to previous. Includes a tough glass screen with an adjustable angle, and a 1.5x digital zoom. The endoscope's body is reinforced with metal, to be drop resistant, rainproof and designed for outdoor work.
【LED RING LIGHT】7 LED lights are adjustable for brightness and give the forward-facing camera a perfect view of the darkest inspection areas. The side camera has its own LED light for side illumination. The included 32GB micro SD Card supports recording JPEG images & MPEG-4 videos. Wi-Fi connections and downloading driver software is NOT required.
【16.4ft WATERPROOF CABLE】The flexible cable with 8mm camera easily passes through hard-to-reach areas. The snake camera cable holds its shape well. An IP67 waterproof design allows the camera to operate 3.28ft (1 metre) underwater.
【5000 mAh RECHARGEABLE BATTERY】The NEW built-in 18650 lithium-ion batteries are high capacity and rechargeable, supporting up to 6 hours of use time in a recommended temperature range of 32°F to 113°F (0°to 45°C).
Pro-Grade NTS300 Series Borescope Inspection Camera
Updated NTS300 Borescope with larger 5 inch IPS screen is a portable and handheld multifunctional inspection system. 
Featuring HD Image with powerful recording capability, users can capture images (JPEG) at 1080p resolution or videos (AVI) at 720p resolution with the 32GB micro SD card.
With ergonomic and robust design, users can control all the keys with one hand easily, and the adjustable handle offers extra comfort.
In addition, the stainless steel shield and overall reinforced structures ensures stability under heavy duty. 
The device has a smaller diameter 8mm probe with 7 adjustable LEDs, high performance camera module offering crystal clear output.
Furthermore, it has an integrated CREE LED flashlight for dark area working assistance. 
7 Adjustable LEDS

7 LED lights are adjustable for brightness and give the forward camera and the side camera a perfect view of the darkest inspection areas.

LED Flashlight


This flashlight on the monitor helps a lot when using the camera in places where there is no light or minimal light.

5000 mAh Rechargeable Battery

High capacity & recharge ability, the runtime lasts up to 6 hours, faster, safer charging time.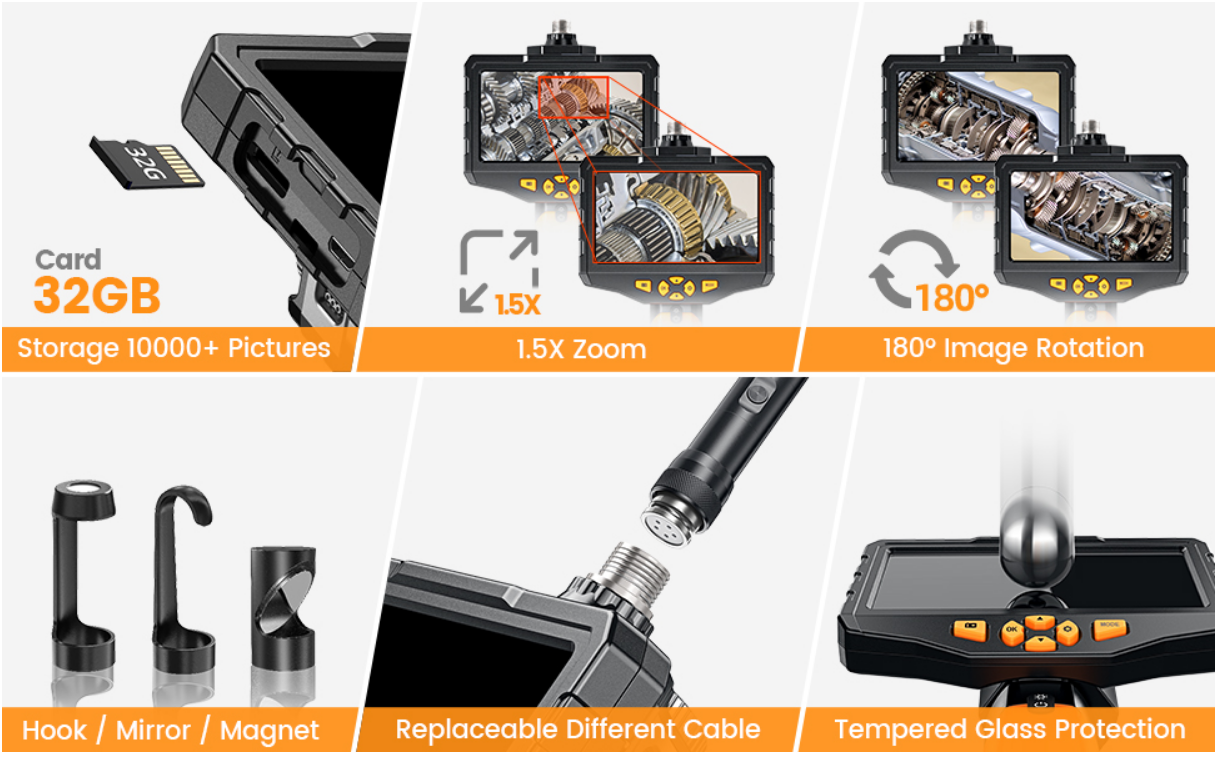 Packing List:
NTS300 Borescope inspection camera
16.4ft gooseneck semi-rigid camera
Built-in 32GB Micros SD Card
Sturdy protective case
Accessories: hook, magnet, mirror
USB cable / Manual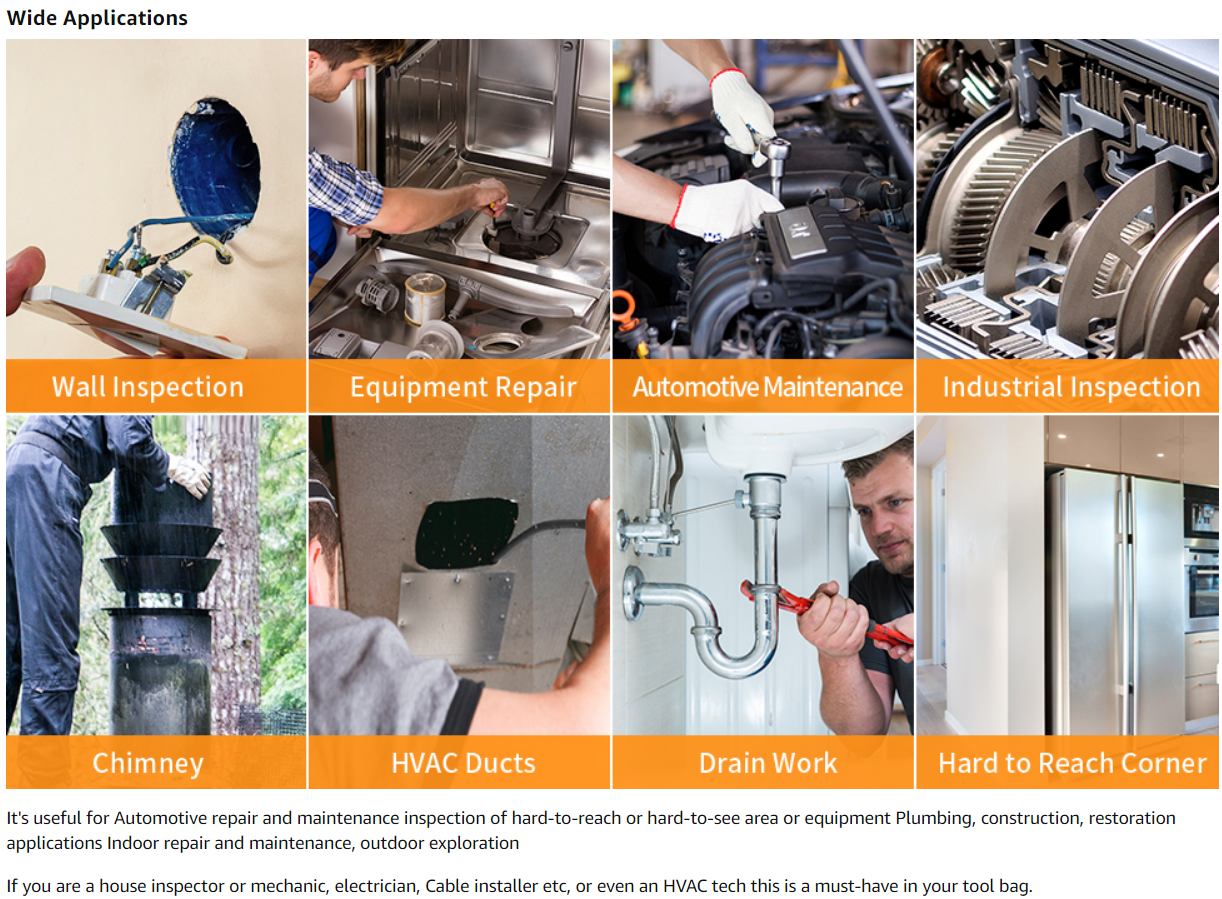 Technical Specifications
Screen Type: 5 inches IPS color screen
Screen Resolution: 854x480 pixels
Video Recording Resolution: 1280x720 pixels, 1920x1080 pixels
Image Capturing Resolution: 1920x1080 pixels
Camera Resolution: 1280x720 pixels               

Camera View Angle: 72 degrees x 2
Image Zoom: 1.3X-1.5X
Waterproof: IP67
Battery: 5000 mAh Lithium rechargeable battery
Disclaimer:
All shipments (including warranty replacements) are subject to 24hrs processing time.
Any & all orders placed after 12 pm will NOT ship until the next business day.
Shipping Locations: We proudly ship to all countries, except for the following locations of
Iran, Sudan, Cuba, Syria, North Korea and Uganda. 
Location:
Shipping Warehouse:
Expected Shipping Time:
Domestic US Orders
Canada Orders
California, USA
Up to 10 Business Days
International Orders
HongKong, China
Up to 30 Business Days
Shipping Options:
Expedited Shipping

Free Standard Shipping

Low-Cost Shipping

Expedited Shipping to the contiguous USA is optional during checkout.

Most orders over $49 qualify for Free Shipping to the contiguous USA.

Most orders over $299 qualify for Free Shipping to Canada

If your order doesn't qualify for free shipping, you may review alternative shipping options during checkout.

1-3 Business Days
1-7 Business Days
1-14 Business Days

Orders placed after 12 pm will ship the next business day (excluding holidays).

Orders placed after 12 pm will ship the next business day (excluding holidays).

Orders placed after 12 pm will
ship the next business day
(excluding holidays).
Shipping Costs:
Shipping costs are calculated by accounting for multiple factors, including price, weight, shipping distance, etc. Customers are responsible for all customs fees & costs.

Customers may utilize the Shipping Calculator Tool via our Teslong website (Cart section) to estimate shipping options & costs.

All domestic (US) orders over $49 qualify for free standard shipping!
United States
We ship nationwide across the contiguous (lower 48) states, as well as Alaska, Hawaii, Puerto Rico, and other US territories.
International
We ship most international packages via UPS or DHL. All associated shipping fees are calculated on a combined basis of weight, value (for insurance purposes), and the final destination. Some orders may be shipped in multiple parcels, but we do not add additional fees to your order if we ship in multiple parcels.

Be advised that some items cannot be exported due to the manufacturer or government restrictions. In these instances, you will be provided an on-screen notice if you attempt to put an item in your shopping cart or check out an order containing items that we cannot ship you.

We also reserve the right to block certain products from being shipped outside the USA.
Return Policy & Instructions
Easy 30-Day Return Policy
If you are dissatisfied with your purchase for any reason, you may return it to TESLONG within 30 days of the purchase date, subject to the conditions and exclusions listed below.
If your original item included free items, you must return all associated items for a full refund; the retail value of any free items you keep will be deducted from your reimbursement total.

You may initiate a return or exchange online, by phone, or via Live Chat.
IPS stands for in-plane switching, a type of LED (a form of LCD) display panel technology. IPS panels are characterized as having the best color and viewing angles among the other main types of display panels, TN (twisted nematic) and VA (vertical alignment). However, IPS panels are also the most expensive of the three.
It's the distance between the camera and the subject you have focussed on.
A megapixel (MP) is a million pixels; the term is used not only for the number of pixels in an image but also to express the number of image sensor elements of digital cameras or the number of display elements of digital displays. For example, a camera that makes a 1280 × 720 pixel image (921,600 finished image pixels) typically uses a few extra rows and columns of sensor elements and is commonly said to have "1.0 megapixels" or "1.2 megapixels", depending on whether the number reported is the "effective" or the "total" pixel count.
In photography, angle of view describes the angular extent of a given scene that is imaged by a camera. It is used interchangeably with the more general term field of view. It is important to distinguish the angle of view from the angle of coverage, which describes the angle range that a lens can image.
IP stands for "Ingress Protection" and is the International Protection Marking per IEC standard 60529. The most common use of an IP rating is how protected a product - such as a transducer - is from a solid or liquid entering the product.IP67 rated will remain protected and fully operational in most industrial applications, including those where the transducer is exposed to water spray, rain, debris, etc. The "6" indicates the sensor is completely protected against solid objects from entering the camera, including dust, while the "7" indicates the camera can be completely submerged in 1 meter of water for up to 30 minutes before the moisture penetrates the housing.
The No.1 reason that cause those blurry images are the dirts or oil(endoscopes) or ear wax(otoscopes) being stuck to teh tip of the camera. Please use a cloth, aclcohol pad, or a Q-tip to clean it. You can apply a little pressure to make sure you get all the dirts, oil, ear wax off the tip of the camera.
No, all the endoscopes we sell are not for medical use and it's prohibited to put into human body.